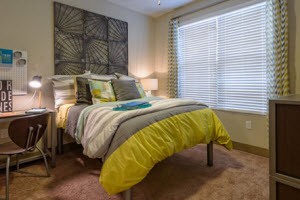 ---
For many college students, two bedroom apartments come along with several benefits. The first obvious one comes down to simply dollars. Splitting the rental fees in half means more dollars in your wallet. Even if you are working while going to college, it's likely that you're not receiving a career salary but just enough to get by. Even splitting the cost of food with a roommate helps save you money. Another advantage is that you have company. And since moving from the cozy nest to an off campus apartment is a big transition, having someone else around can help ease the lifestyle change.
Maintain Privacy in Two Bedroom Apartments
Although you're sharing an apartment with another college student, you can still maintain privacy in two bedroom apartments. Of course, you'll have your own bedroom, but many college student apartment complexes also have floorplans with a separate bathroom for each person. This way, student renters can enjoy the privacy of a relaxing bath or hot shower. And if your roomie is having friends over and you want privacy, you can opt to head to the on-site study lounge or stay in your room.
Share in the Chores
When you're living away from home, there's really no way to escape the daily chores, such as cooking, cleaning and doing laundry. When you share an apartment with a college roomie, you can both delegate a cleaning and cooking schedule. For example, on Tuesday night, your roomie can cook up some sushi and on Friday night, you can serve up some chicken wraps. Even set up a schedule for who's on clean-up duty.
How to Find a Roommate
Sometimes, it's tough to find a roommate for two bedroom apartments when you go off to college. Your high school buddies may be going to a different college, and you just don't know anyone at your new college to room with. Today, some college student apartment complexes offer roommate matching services for two bedroom apartments. You can fill out a form with your interests, personality and preferences, and the apartment complex will match you up with a good fit. It's an easy solution to a common problem for college students who want to live off campus.
If you're gearing up for college and need a roommate, talk to the folks at The Standard. This luxury college student apartment complex offers a roommate matching service. Plus, this college student apartment complex offers a great lifestyle for college students. Enjoy fine amenities, such as heated outdoor spas, workout center, an outdoor grill, Starbucks cafe and a resident clubhouse with flat-screen TVs. Give them a call today. It's the picture-perfect college student apartment complex that enriches the whole college experience.