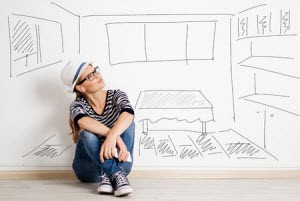 ---
Having a college roommate doesn't necessarily mean that two people have to be "joined at the hip" all the time every day. There are limits to togetherness, and everyone needs some alone time. That's one of the reasons that 2 bedroom apartments at The Standard, a modern off campus apartment building designed for ASU students, are so popular.
The Standard: Your Options
Choice is what it's all about when you choose an off campus apartment at The Standard in Boone. The modern building is situated just across the street from campus but also puts you within walking distance of eateries and attractions of this great small city. There are many things you'll find attractive, from the local farmers market to community celebrations, historical sites and popular clubs and entertainment facilities. College life, as you probably know, is not all about studies and grades.
At The Standard, you can be alone when you want to be, or when you need to cram for finals, but you'll also enjoy the social life in a modern complex that features resort-style facilities and abundant opportunities to socialize with other residents. Within the building are a residents-only lounge, a 24-7 study lounge, shuffleboard, and fitness facilities that include state-of-the-art cardio and strength equipment. You and your roommate can share one of our modern two bedroom apartments with private bedroom and bath for each of you. You'll also have spacious common areas that include living and dining space and a fully-equipped modern kitchen with granite counters and stainless steel appliances.
Choose From 2 Bedroom Apartments, or Pick a Larger Floor Plan
No matter which floor plans appeal to you, from studios to two bedroom apartments to house-sized 4 bedroom units, your privacy is a given, because every bedroom has a private bath and a spacious closet. Retreat to your own space when it suits you, but enjoy the common spaces and the company of your roommate(s) when that seems right. Leave your apartment when you choose to, or invite friends in to share dinner, snacks and a movie, or a serious study session. The Standard allows you to experience college life the way it should be lived, rather than having to conform to a set of rules that don't necessarily work for you.
When you're ready to move off campus, you'll want to check out all the options including our 2 bedroom apartments, but we think you and your parents will be pleasantly surprised, if not totally blown away, by the advantages we offer, and by our reasonable prices. One other thing: If you don't already have a BFF you want to live with beginning Fall semester, we offer a roommate matching service to make the transition easier. Why not check out our floor plans and our rental terms right now? You can even submit an online application, accompanied by a minimal deposit, so you won't be disappointed. Our terms run from early August to mid-July, and rent is payable monthly. We'll be waiting to hear from you.