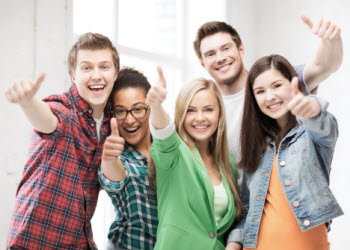 ---
When you first considered going away to college, you may have imagined living on-campus in the dorms. However, with the abundance of excellent student apartments for rent today, living off campus is a better option than ever before. Consider these five incredible benefits to renting an off campus apartment.
Furnished Student Apartments For Rent
For college students, having a furnished unit can be a major benefit. Off campus housing may be available fully or partially furnished which can save money and time in furnishing. Additionally, the furnishings are often of a higher quality than the student would purchase if doing so alone.
A Variety of Floor Plans and Prices
In many dorms, every dorm room is the same—or there are only one or two floor plans available. When you begin looking at student apartments for rent off campus, the options are enormous. This makes it possible for students who want to share housing with friends to do so, or students who want to have a place of their own to have that. The flexibility is unlike anything available on the school grounds.
Amenities Such as Clubhouse, Fitness Center and Heated Outdoor Spas
Imagine having all of the amenities of home—and possibly more. Off campus housing amenities can include options as varied as heated outdoor spas, study area, fitness center, clubhouse, and even other options. When you're looking for student apartments for rent, make sure they have the amenities that are important to you.
Convenient to School and Other Nearby Locations
While dorms are usually convenient to classes, they can make it difficult to get to and from work or to get into town. Off campus housing options are usually designed to be convenient to both the school itself as well as other popular off campus destinations.
Roommate Matching Services
With a dormitory, students are often "stuck" with the roommate they are assigned. In alternative housing arrangements, roommates are a pleasure, not a burden. In fact, if students don't have a roommate, there may be roommate matching services available to make the process of choosing one even easier than you would imagine.
As you can see, there are many reasons why you may want to give off campus living a second look. If you would like to learn more about luxury student housing at an affordable price, check out "The Standard". The Standard will revolutionize off campus housing at Boone. If you would like to learn more, call us at (828) 865-1101 to talk to one of our housing experts today.