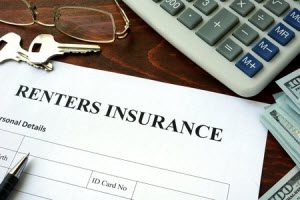 ---
Protection for your belongings and for the place you live may be low on your list of priorities as you begin the school year, but student rental insurance is every bit as important as getting the right class schedule, making new friends and resolving to study hard!
After all, bad things can happen to good people, and the best way to protect yourself is to have a student rental insurance policy in place that will reimburse you for any loss.
Student Rental Insurance
Your life, your health and your car may be covered by a parent's policy, but it's always a good idea to check on policy limitations and to know the ins and outs of insurance coverage. Even if a family homeowners policy is in effect, it might not cover accidental damage — a spilled soda, for instance, that can destroy an iPad or an MP3 player — and a high deductible might mean that even if your bike is stolen, insurance won't pay for a replacement.
A policy specifically tailored to student needs can alleviate a lot of headaches. A student rental insurance policy will protect you and your belongings against theft, vandalism, and other types of loss and damage, whether you live at home, in a dorm on campus or in your own apartment off campus. The best plans insure not only your computer, smart phone and tablet, but all your expensive textbooks, your guitar and sports gear, your clothes and your DVD collection, your bicycle, and even the university property that is in your possession.
Coverage extends to wherever you may physically be: in class, on a field trip, spending the weekend with a friend, or even on a study program abroad. Ideally, your policy will protect against accidental damage as well as major disasters, including earthquakes, fires and floods, and electrical or water damage.
Get Specific — Ask Questions
It's smart to have student rental insurance on your belongings, but it's even more important to understand exactly how that insurance coverage works. When comparing policies, be sure to ask detailed questions so that you understand policy terms and limitations. You will find that deductible amounts, exclusions, definitions of "loss," claim submissions, and reimbursement procedures differ substantially from one company to another, as do the rates. Also ask what kind of documentation is needed, and whether or not the premium depends on the value of your possessions. Also ask about a coverage cap and if there are limits for items like jewelry or electronics.
Some questions might include:
• If I loan something to a friend and he loses or damages it, will it be replaced?
• If I lose my phone, will insurance pay for a new one?
• How do I report a theft? Do I have to file a police report?
• How long do I have to wait for reimbursement?
• Is my computer covered against electrical storms or power surge damage?
• Will a damaged item be replaced at full value?
• Is the policy just for the school year?
• What if my roommate causes the damage?
• What if I buy new things while my insurance is in force?
The time to consider student rental insurance policies is before you actually make the move to campus, but it's never too late to check on the advantages of getting a policy.
Usually payment is required in advance, but be sure to ask what a company's specific requirements are and whether or not there is a waiting period before the policy becomes effective.
Making the Right Decisions
Even though your personal space and privacy are assured when you live at The Standard at Boone, Boone's newest luxury apartment complex designed with Appalachian State students in mind, that doesn't mean that accidents won't occur or that the unexpected is impossible. You may just accumulate more personal belongings because you have a great place to use and enjoy them.
All the things you bring from home or buy to enhance the furniture and decor package of your own off campus "home" can be included under a student rental insurance policy. It should cost just a few cents a day, but it will provide immense peace of mind.
As a college student, you know the importance of weighing the pros and cons — from your choice to attend Appalachian State to your choice of major. Moving to an off campus apartment in The Standard at Boone, whether you decided on a studio or a four-bedroom with roommates, was a great choice. Now, choosing the right student rental insurance to protect you and your belongings is just another step along the road to your future.
If there's any way we can help, just give us a call!